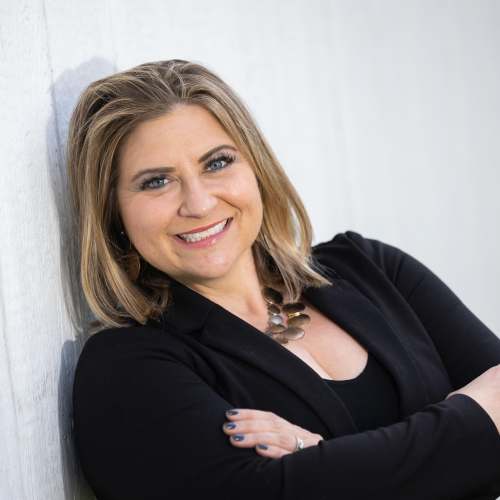 "Paving Ways", as Kimberly likes to say. She is a mother, a wife, a Doodle lover, a hockey enthusiast, a real estate investor and a spontaneous travel diva embodying the "life's too short not to go" energy. Her passion and drive have set her apart from the rest of the crowd throughout her real estate career.
Kimberly Rickman has spent years building her career in the real estate industry. Starting in 2006, Kim began purchasing, renovating, and managing personal investment properties with her husband Jason. Using her talents, she has been able to continue the growth of her personal property portfolio while helping thousands of others find and enjoy the place, they call home. This love for real estate easily transitioned into becoming a real estate agent working for several large and small companies. She grew her name through her continuous pursuit to develop and evolve as a professional. In 2014 Kimberly earned her Real estate brokers license and has been growing her business ever since. She has been recognized by the Realtors Association of Central Massachusetts and has earned the top producer award for 2020, 2021 and 2022! She has also received advanced training and certifications as a Seller Representative Specialist and Real Estate Negotiation Expert (RENE).
A natural entrepreneur, authentic in thinking and driven to ensure client satisfaction Kimberly discovered a barrier many agents have when it came to compensation and competition. In 2021, Kimberly developed OWN IT, a business model created to empower real estate agents to truly OWN their business. Agents at OWN IT are fully accountable for their income, expenses, education, technology, marketing and most importantly their client base. This model has already proven its success and many agents are already enjoying the freedom of owning their career.
When Kimberly isn't conquering the world of real estate, she's putting her mark in the world of ice hockey. She was the founding goaltender for women's ice hockey at Lincoln Sudbury Regional High school and her alma Mater Quinnipiac University. She still can be found at all the local rinks (both ice and Dek) watching her two boys grow and develop into fine young men. When she's taking a break from being successful, she loves to travel to the Islands, New Hampshire, or South Carolina for well-deserved rest and relaxation. These breaks help her refuel and recharge her driven, committed, energetic and innovative nature.
OWN your future but pave your OWN way is the benchmark to Kimberly Rickman incredible life so far. If you're looking for real estate advice or ready transition into a new home, contact her at [email protected].

"Kim and her team were amazing start to finish. She made the possibly very stressful process of selling a house easy and stress free. We will work with her again in the future and would highly recommend her to anyone looking t
…
o sell their home . Paul and Kelly king"

"We bought our second home using Kim. She was incredibly helpful and responsive through the whole process. She was definitely the right type of aggressive and a go getter! She also advocated for us through situations that were
…
didn't fully understand! Thank you Kim!"

"Kim from Rickman Really helped me to find a home, and through the process of getting a mortgage loan. She was very helpful until the end. I would recommend her, and use her again in the future."

"Very professional and accessible, we had enough open houses, better vetted buyers would have been a plus."

"My partner and I were looking for our first home in Worcester county and found Kim online. Since this was our first home, she graciously helped guide us through the process and told us everything we needed to know. The first
…
time we spoke with her, she asked thorough questions about what we were looking for. She was able to accommodate our schedule and take us to showings after business hours. She was always available, quick to respond, and quick to set up showings. She was able to get us a showing before an open house for the home we ultimately purchased. I would recommend Kim to anyone. She is a pleasure to work with!"

"I recently sold my condo I had Rickman Realty for my realtor Kim was excellent, extremely kind courteous and very knowledgeable throughout the hole sale actually I was pretty amazed when she sold it, she listed it on a Wednes
…
day had an open house on Friday and it was sold on Saturday. I have to say she is a pretty amazing lady and I would strongly recommend her and her company to anyone and Kim if you are reading this I just want to say thank you once again (Mark)"

"We just closed on the sale of our investment property in Worcester. Kim went above and beyond for us through the entire listing and showing process, and handled difficulties with our tenant and the unit in general with profes
…
sionalism and patience. We would recommend Kim to anyone looking for representation in the real estate market!"

"I've bought and sold quite a few properties in my time, but I'd have to say no transaction went more smoothly or easily as the one where Kim Rickman was in charge. I was out of state for this sale and Kim took care of every d
…
etail. No complaints, no hedging - just action. She knew exactly what to do, who to contact and how to get it done. She found a buyer quickly, at a good price, and made sure the two sides came together to consummate the deal. Right after the offer, I got a detailed list of everything that was going to occur, when it would happen and what I needed to provide or have available. Kim's whole team, assistants, lawyer referral, repair and cleanup crew were so helpful and reasonable! Kim would always be my first choice when selling or buying a property in MA, and I would suggest she should be yours too!"

"Worked with Kim Richman . She was great, went above and beyond for us during the sale of our house . Knowledgeable, kind , organized. We would highly recommend OWN IT . Shout out to all the staff Great experience Eric and Kat
…
hy"